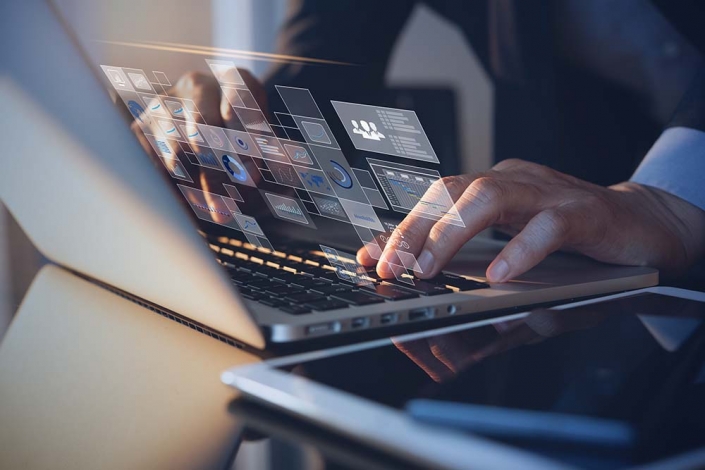 As companies grow, they turn to more powerful technology to track, manage, and forecast their business. For brands and suppliers selling to retail trading partners, that usually means implementing Enterprise Resource Planning (ERP) software. When they do, some will ask: can an ERP do EDI?
The answer is Yes. When it's done well, Electronic Data Interchange (EDI) integrated into an ERP produces enviable supply chain efficiency, and allows companies to scale effectively.
But EDI isn't part of an ERP suite of applications, so it requires integration of EDI software. That's when companies will want to ensure they are working with an EDI provider and a development team that has experience with the ERP and the skills to make integration seamless.


EDI and ERP integration explained.
In basic terms, think of an EDI platform as a "front-end" application. The ERP is the "back-end", processing data from all parts of the business.
The most important element of the integration is automation. In fact, an integration with additional manual entry requirements can hardly be described as being "fully integrated." If it's clunky, it can actually generate problems instead of create efficiency.
When it's done well, an EDI/ERP integration makes the translation of order data into the ERP automatic. Instead of requiring people to enter information themselves—a high-touch, error-prone task—true integration moves the data in EDI transactions, like Orders and Invoices, directly into the ERP.


Can't we just use our ERP for EDI?
An ERP is a powerful system, and the right one makes a business run smarter. It's no surprise that many will expect the best way to manage EDI is directly in the ERP.
An EDI solution that is baked into the ERP may sound like it would be efficient. The challenge is that EDI itself is a complex data format, and ERPs aren't built for it. Fact is, using ERP for EDI transactions, without an outside EDI provider, typically results in failure. It's not surprising—ERPs aren't built with EDI as a primary focus.
If you work with retail trading partners who demand adherence to compliance requirements, relying on a bolted-on EDI solution will put productive relationships at risk. An ERP does not have the specifications of retailers built into it. It also doesn't constantly update in order to meet the ever-changing standards of trading partners.
Major retailers will continue to rely on EDI in their supply chain, and use it to reduce friction throughout the order and fulfillment process. An ERP that isn't built for it can quickly create issues with valued customers.
Remember that a sophisticated EDI platform such as our Lingo software is designed and constantly updated to provide transparency and visibility into every transaction. While there is no question that ERPs are powerful, they are primarily meant to house data. EDI, on the other hand, is all about the exchange of information, and platforms dedicated to that will perform better. What's more, the right EDI software can also manage orders from multiple channels including your eCommerce store or online marketplaces, making it easier for your company to adapt to the shifting retail landscape.
Bottom line: EDI software and ERPs serve quite different functions. A powerful EDI platform, fully integrated with a robust ERP, is the solution that is most reliable, accurate, and transparent.


How should an EDI/ERP integration work?
Here's some explanation of the information flow from a robust EDI platform into an ERP. Let's use an EDI 850—the Purchase Order—as a starting point.
An EDI 850 is received from a retail trading partner.

An automated process begins. The EDI platform records the transaction, and then converts it into the format that makes it functional in the ERP.

Since the EDI software is integrated with the ERP, the converted format is automatically pushed into that system.
Ideally, EDI software can integrate with far more than just an ERP. For instance, the most advanced platforms integrate with the WMS used by a 3PL, bringing efficiency to the fulfillment process.


How valuable is EDI and ERP Integration?
A siloed approach creates problems throughout an organization. When technology and systems can't communicate, tasks are executed slowly and prone to mistakes.
A thoughtful, integrated solution brings the best elements of both EDI software and an ERP together. The automation it produces lets companies perform essential tasks in less time, and that speed benefits both internal teams and external business relationships. Everyone can see where orders are in a typical workflow, and the back-end data collection in the ERP can be trusted.


It takes an advanced EDI platform.
For too many companies, processing EDI transactions is an afterthought. A legacy system is tolerated, even as other, more advanced technology is introduced throughout the company.
If that describes the situation at your organization, it's time to consider all options. If you're confident you have the right ERP for your business, examine how you process EDI and other orders. Does your platform exist as an island outside of the ERP? Is the integration that you have clunky? Are you asking your ERP to perform tasks it wasn't built to take on?
There are myriad EDI solutions in the marketplace. Finding one that not only makes EDI transactions less time-consuming but also connects effectively with your ERP should be the standard. Too many options exist as their own channel, unable to communicate with the rest of your technology stack.
At eZCom, we start every new client interaction with a full technology audit. Rather than try to shoehorn our platform into your workflow, we search for solutions that will be most effective for your unique operating approach. The result is EDI and other orders are seamlessly integrated into the ERP that drives your business.
When that happens, you and your team reduce the hours you spend processing EDI transactions and get more time to focus on growth.