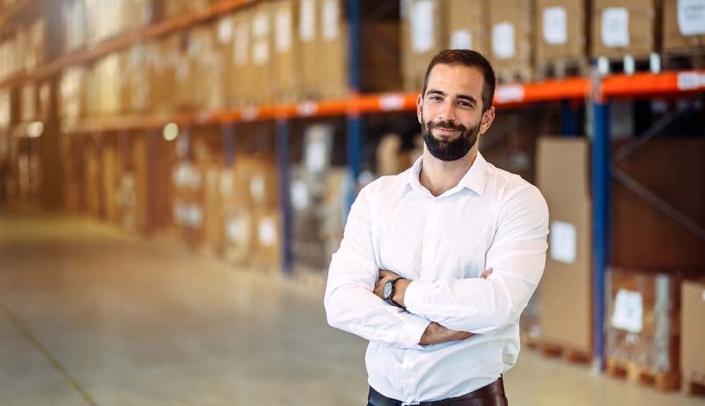 The retail landscape is constantly changing. Brands and suppliers that stay ahead of the curve enjoy continued success—being nimble creates new opportunities. But, as the shopping patterns shift, few aspects of the business are as challenging as inventory maintenance. A question for many as they grow is: how to manage multiple warehouses?


Why use multiple warehouses?
It's a fair question. After all, keeping things simple is often a great business practice. What if multiple sites create more supply chain challenges than they solve? Wouldn't a single, consolidated warehouse produce more efficiency and the most accurate inventory counts?
Well, it might make it easier to maintain exact inventory numbers. But that's probably where the benefits end. In this era of eCommerce and wide distribution, successful suppliers are shipping products all over the country and the world. The online shopping boom means that buyers can be anywhere.
Of course, the challenge becomes getting products to those buyers who are, yes, anywhere. What's more, today's consumer is less patient than ever before, and typically not willing to wait days for shipments to arrive. And weeks? Not a chance.
Shipping from a single distribution center also increases costs. Rates are calculated based on distance covered. So let's say you have to ship from Vermont to California,—fees are obviously going to be higher than if you sent an item from a much closer location. Sure, you can transfer those higher shipping costs to the customer, but you'll risk losing a sale.
With your inventory in multiple places, you reduce your overall shipping costs and get products to buyers faster. It also allows your business to scale quickly as demand grows. That said, a multiple warehouse approach does require tools and technology to make moving the distributed inventory efficient, fast, and error-free.


—Dan Gilmore, Softeon
Here are the critical elements required to manage multiple warehouses.


Ensure the data is accurate.
Being able to maintain real-time inventory numbers will not only make your company a reliable supplier to retail partners and a trusted eCommerce store for consumers, it optimizes stock levels. That means less dead stock, and the right items in areas where demand is high. In other words, the Florida warehouse isn't the best spot for that new line of winter boots. Flip-flops, however, are another story.
Shifting stock and forecasting demand is possible with multiple warehouses whether they are your own or belong to a 3PL, but only if your team can trust the numbers. With our Lingo platform, Item Tags make things easier to track. Our software also makes robust use of the EDI 846 so users know that inventory data is accurate.
The Item Report options—Standard Reports, Matrix Reports, Item Matching Reports, Data Reports, Ship-To Address Reports—allow companies to track stock levels, forecast accurately, and spot problem areas in their workflow.


Create the best process for fulfillment.
Multiple warehouses do add some complexity, and bring fresh challenges to order fulfillment. These obstacles to efficiency, however, can be overcome.
It starts with inventory visibility. Since our Lingo platform integrates seamlessly with all kinds of systems—WMS, ERPs, and more—users get much better insight into stock on hand. EDI transactions and online orders sync across the business, and companies know that fulfillment—even with multiple warehouses—can be managed efficiently.
If you drop ship items for trading partners, the ability to automatically generate retailer-branded packing slips and shipping labels makes all the difference. With Lingo, the origin warehouse is not a barrier—users of the platform can stay compliant whether an order ships from Scranton or Santa Fe. It's also easy to create and send Pick-and-Pack instructions to multiple locations or split shipments.
Finally, the Lingo platform has built-in connections to major shipping providers. This sharply reduces the possibility of errors caused by manual data entry, and makes the calculation of rates accurate and fast.


Manage all as one.
When companies adopt a multiple warehouse approach, it's vital to manage them as one. While the distribution points and the inventory may be scattered around the country or the world, a central hub for processing it all must be in place.
With Lingo as the backbone for EDI and order processing, a multiple warehouse approach is far easier. Seamless integration with other systems and the tools built into the software make it possible to get a perspective on all items, no matter where they may be located.
You can even communicate directly with each center to ensure that products are moved as quickly as possible. With the Special Permissions available in Lingo, you can share specific, necessary information with warehouse personnel without providing access to data you wish to keep confidential.


Multiple warehouses can work for companies of all sizes.
It's not just large organizations that can benefit from multiple warehouses. With careful planning and the right software, maintaining inventory at locations across the country or around the world can bring efficiency to any operation. Working with 3PL providers means small firms aren't required to make major infrastructure investments—no massive warehouses to build—and can focus on using technology to create a seamless process.
If managing multiple warehouses is a challenge for your team, or if you want to adopt this approach but feel overwhelmed, let's talk. Our Lingo software makes it possible to maximize the benefits and minimize the complexity.